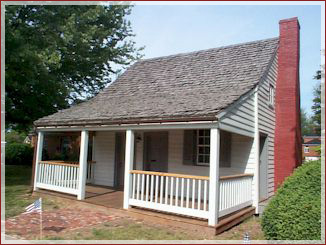 This charming little building is one of Culpeper's oldest homes, a reminder of Culpeper's Colonial era. It is a log house covered outside by clapboard. The interior is original with the exception of a few "mended" places. It may have been standing c1749 when Culpeper County came into being by separation from Orange County. At that time this site was in the "country," as the town limits did not extend this far south.
In the mid 1800s, a two-story addition was added to the original log house. Mrs. Allen was the owner and she left the house and the lot to two granddaughters, Mrs. Priddie and Mrs. Burgandine, who were cousins. The addition went to Mrs. Priddie and the original log house to Mrs. Burgandine.
In 1963, Mrs. Louise Donovan of New York City, granddaughter of Mrs. Priddie, donated the land for the construction of the Town & County Library. The 2-story addition was torn down when construction began. In 1966, Mrs. Elizabeth Burgandine Coons gave the original "log house" to the Town of Culpeper.
There are many stories connected to this little house: some fact, some fiction. One concerns the "house rules" when it was used as a tavern and offered sleeping accommodations to travelers. Women were allowed inside to sleep, but had to go outside and be served through the window if they wanted a drink.  Another story was told by Mrs. Allen's granddaughter. Mrs. Allen found an old Indian man in the road who had been wounded and was dying.  She took him in and cared for him until he recovered. In return, he gave her the recipe for a healing salve. The recipe was handed down in her family and was used successfully by several doctors.
In 1863, General Grant occupied Culpeper as his headquarters. The town was crowded with Union troops and some of them stayed in this house, while others slept on the porch or in the yard.
Old houses such as this one are tangible "history": as such a valuable teaching tool. The 1990s restoration has this house, again, serving our citizens as a reminder of their unique local history.
The Burgandine House is located at 803 S. Main Street. Parking is accessed off of Mason Street.
Hours: 10 – 5 Thu-Sat; 12 – 5 Sun., or by appointment
Free admission to all; donations accepted.
For additional information contact Susan Williams, Out of Time Teachers, Inc. at (540) 718-4941 or email her.