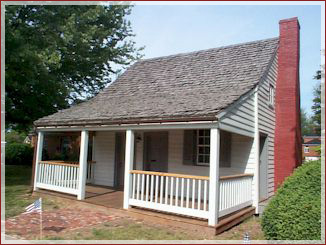 This charming little building is one of Culpeper's oldest homes. It is a log house covered outside by clapboard. The interior is original with the exception of a few restored areas. It may have been standing in 1749 when Culpeper County was formed, though some recent analysis suggests the house may have been built in the late 1700s.
In the mid 1800s, a two-story addition was added to the original log house. Mrs. Allen was the owner and she left the house and lot to two granddaughters, Mrs. Priddie and Mrs. Burgandine. The addition went to Mrs. Priddie and the original log house to Mrs. Burgandine.
In 1963, Mrs. Louise Donovan of New York City, granddaughter of Mrs. Priddie, donated the land for the construction of the Town and County Library. The 2-story addition was torn down when construction began. In 1966, Mrs. Elizabeth Burgandine Coons gave the original log house to the Town of Culpeper. In the 1990s the Town of CUlpeper restored the house to reflect its original appearance and to serve our citizens as a touchstone to our historic past.
The Burgandine House is located at 803 S. Main Street. Parking is accessed off of Mason Street.
Hours: Friday 10:00AM-4:00PM, Saturday 10:00AM-5:00PM, Sunday 1:00PM-5:00PM, or by Appointment
Free Admission to All; Donations accepted.
For additional information contact Susan Williams, Out of Time Teachers, Inc. at (540) 718-4941 or email her.