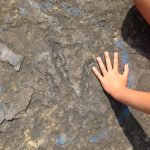 The 3rd annual Dino Walk will be held on Saturday, July 15th at Luck Stone Quarry – Rt. 3 just outside Culpeper, VA.  Get a pass to enter the site (9am through noon) at the Museum. Only $15 per car!  Museum hours (to purchase passes) 10-5 Mon-Sat., 11:30-5 on Sun.
Call 540-829-1749 if you don't live in Culpeper and you need to order a pass – call between 9-5 Mon through Friday.  You must have a pass to enter the site.
Each time slot can accommodate up to 40 cars – you will need to show your pass before you can enter the site.  Choose one of the following times to explore the site:
9:00 AM
10:00 AM
11:00 AM
12:00 NOON
Each tour is approximately 50 minutes long: bring water, sun screen, a camera, and lots of questions! Experts on the tracks, and on the history of the discovery (ca. 1989) will be in the pit to answer questions and show you the best tracks!
Rain or shine – will be held unless there is threat of lightning (then it will be held the following Saturday)
Hope to see you in the pit!