It's that time of year again – time to WALK WITH THE DINOSAURS at the Luck Stone Quarry on Rt. 3, right outside of Culpeper!
Luck Stone has graciously agreed to co-host a second year of exploration of their thousand-plus dinosaur tracks!  Deemed the largest concentration of tracks in North or South America, Culpeper's quarry has a large pit filled to the brim with well-preserved dino tracks – and on JULY 16th between 9-1, YOU and yours can discover why Culpeper is so proud of this fact – and why we LOVE our dino tracks.
This year, in order to have a more organized flow of cars into the pit, we are selling passes BEFORE the event. You must have a car pass ($10 per car – no matter how many people are in the vehicle) before you will be permitted to enter the caravan line to the site.
Pick up a car pass (or more) at the Museum – we're open from 10-5 M-Sat., 11:30-5 on Sunday.  Passes are in the Museum-proper.  Checks, credit cards or cash are accepted.
You will need to choose a time slot for your exploration – 9am, 10am, 11am, or 12 noon... each time allotment will be approximately 50 minutes in the pit.  Bring water, sun screen, good walking shoes, a camera, and all the questions you want to ask.  Luck Stone employees, former employees (who were in on the discovery of the tracks in 1989), and museum volunteers will be on hand to direct traffic, answer questions and help you have the most fun possible!
AFTER the visit to the site, come by the Museum for refreshments, tours, and a hands-on craft for kids (related to dinosaurs, of course!).
Questions?  Need to order passes on the phone?  Call 540-829-1749
See you at the pit!!!  This is a rain or shine event – unless there is threat of lightning! Then its scheduled for the following Saturday.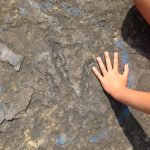 Madison Stephens at the 2015 Dino Walk… those are some BIG tracks!